The American Atheists billboard near the Lincoln Tunnel got more than its money's worth of publicity over the past month:
That billboard has now been taken down, and there's a new billboard in its place: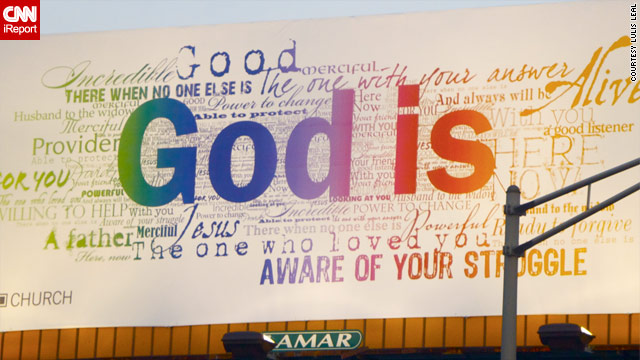 That one's put up by the Times Square Church (based in Manhattan). It's fine — they're allowed to have it up. I just don't think anyone's going to make a big deal out of it. There's nothing remarkable there. Just a whole bunch of clichés about god all in one. Nothing you haven't seen before.
"We want to encourage people to seek God and prove that indeed He is," senior Pastor Connor Conlon said…

…

"They have First Amendment rights," [American Atheists] spokesman Blair Scott said.

Since putting down $20,000 for the billboard, the group has earned $65,000 in donations, which Scott attributed to the national publicity it garnered — with a little help from the Catholic League.

"We received e-mails from hundreds of agnostics and atheists who heard about the billboard and had never heard about us who thanked us for being there and letting them know they're not alone, and that was our target audience from the get-go," he said.

"We sent the Catholic League a thank-you letter."
American Atheists isn't done causing controversy, though.
They're promoting their Southeast Regional Atheist Meet (SERAM) in Huntsville, Alabama by putting up a new billboard on January 1st. It will be seen by northbound traffic on US-231 Memorial Parkway:
Dave Silverman, President of American Atheists, said "We're reaching out to Americans who attend religious services even though they know it's a scam," said Mr. Silverman. "This is part of our 'You KNOW it!' campaign. As we did in New York, with this billboard we are challenging Alabama to face what they KNOW is the truth — that all religions are scams — they tell you how to live, and then they take your money, all in exchange for an afterlife that does not exist."

"We are challenging people — if you know it's a scam, why participate? Why are you letting this scam run any part of your life, or take any of your money? Why must you remain silent and compliant to protect this scam?"
I like that subtitle, too: Telling the Truth since 1963 🙂
Is this any better or worse than saying "You KNOW it's a MYTH"?
No doubt that billboard, in a southern state, will attract a great deal of publicity.
Another piece of evidence showing that being blunt is only helping our cause.