Recently, the Atheists of Florida decided to protest the Cape Coral City Council's proposal to have invocations before meetings as well as putting up a Ten Commandments display in City Hall. They protested by making speeches and wearing shirts reading, "One Nation, Indivisible" on a flag background:
AoF member Christine Richards said this about the invocation prayers at a council meeting a couple weeks ago:
The functional effect of these prayer rituals is that they provide Americans like me only two options and both impinge on my Freedom of Speech in an unconstitutional way.

One option is that I can stand and PRETEND TO PRAY to keep from looking like a religious outsider. This symbolically communicates to all that I am religious, something that is not true and something that I really do not want to convey.

The second option is that I REMAIN SEATED. This symbolically communicates to all that I am a religious outsider, something that I may NOT want to convey either.

As you can see, for me as an atheist, neither is a good choice as both options force me to symbolically say something about myself that I may not wish to convey. By conducting your government prayer ritual, you force me, a citizen coming to your meeting to discuss business, to first engage in symbolic speech about my religious orientation and that is blatantly unconstitutional.
So when the atheists made plans to show up again to the city council meeting earlier this week, the council had an ultimatum for them:
Cape Coral City officials warned Atheists of Florida members attending the December 13th city council meeting to either cover-up the message on their shirts or be ejected from council chambers…

The atheists were attending the Monday evening meeting to voice their concern about Resolution 51-10, which included instructions about conducting prayer invocations as part of the council's meeting protocol.
The atheists were threatened with ejection for their shirts… Why?
Councilman McClain says part of the reason the atheist group was asked to change was because on their first visit, they wore the same shirts, and some people watching from home told the councilman they were offended.
Offended! By this shirt?!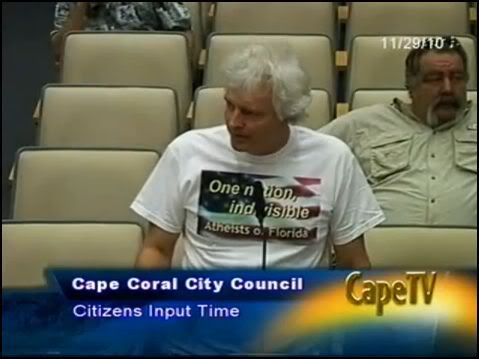 Crazy. The ever-so-fragile sensibilities of anonymous viewers vs. following the law… this should be a hard decision. Not to mention how the atheists broke no rules with their protest.
After the threat of ejection and police force, there was at least a somewhat happy ending:
During the mid-meeting break, Cape Coral Mayor, John Sullivan, and city manager, Gary King, reiterated their demands for members to replace or cover up the shirts. King indicated that the shirts were in violation of council policy. He further warned that if the shirts were still visible, anyone wearing the attire would be asked to leave and if necessary, Cape Coral police would be employed to enforce the demand. [AoF president John] Kieffer asked to see the policy and was told that this could not be done at the time. Kieffer responded that he would refuse to comply and would accept the consequences. A few minutes later, King informed Kieffer that he believed that the shirts "should be okay."
Looks like the atheists won this round. It's still disturbing, though, that claiming "offense" is a valid way to get the council's attention. But if it's works, let's use it to our advantage: I'm offended by Resolution 51-10 (PDF), the main reason for the protest.
It mentions a few examples of invocations that ought to be read aloud, like this one:
That's supposed to be an inclusive prayer…?
There's no reason to recite that before meetings. Council members are free to pray on their own time. They don't need to waste taxpayer-funded time, on government property, talking to their god.
(Thanks to Daniel for the link!)