In the Philippines, there's a Reproductive Health (RH) bill that will be presented to the Congressional Committee of Population and Family Relations next week. It's a response to the country's rapidly growing population.
The bill, which proposes national funding for, and access to, reproductive healthcare services and products like birth control pills and condoms, has stalled in legislative debate for close to 15 years.
Birth control and condoms? Sounds perfectly reasonable… so guess who's against it?
The Catholic Church, which holds sway over at least 80 percent of the population identified as Catholic, remains strongly opposed to the bill, considering all modern forms of contraception abortifacients.
In fact, the Church has threatened to excommunicate politicians who support the bill.
So the Filipino Freethinkers came back with a wonderful response 🙂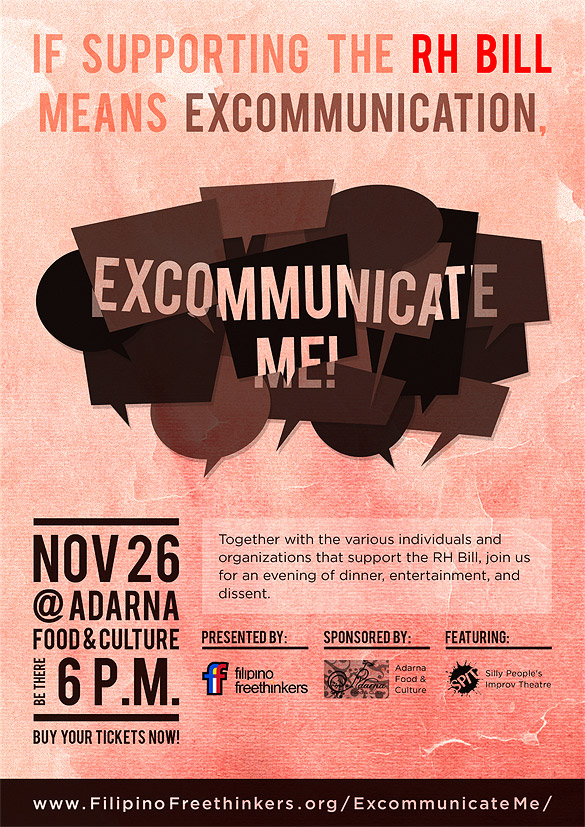 … a group of campaigners, led by the NGO Filipino Freethinkers, which promotes secularism, is hosting an "ex-communication party" on 26 November.

"The CBCP threatens to ex-communicate politicians who support the RH bill. They [pro-RH legislators] are willing to risk being excommunicated from the church; so are we," said the group's president, Ryan Tani, adding: "We are tired of the political and religious bullying of the Catholic Church."
Bravo, Filipino Freethinkers, bravo.
The Excommunication Party takes place a little over a week from now.
Together with the various individuals and organizations that support the RH Bill, let us each declare:

"If supporting the RH bill means excommunication, then excommunicate me!"
That's some great marketing… I hope it takes off.
"I was Excommunicated and all I got was this lousy T-shirt."
"Kiss me! I'm Excommunicated!"
"Betcha can't Excommunicate just one."
It's the least threatening thing Catholics can do to you. They'd be doing you a favor, really. Let's hope this bill passes despite the ranting from the Church.