The Freedom From Religion Foundation placed this excellent sign in Watertown, Wisconsin a few weeks ago:

And what does it look like now?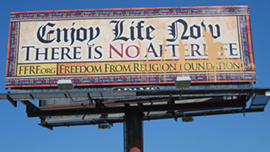 What you see there is yellow paint that was splattered over the sign late last week:
The vandalized vinyl message was promptly removed by Adams Outdoor Co., on Friday. Adams Outdoor is replacing the message gratis and expects to have it back up around Labor Day to honor FFRF's 6-week lease. The billboard went up on the first week of August.

An octogenarian Lifetime Foundation member who prefers not to be publicly named suggested the wording of the slogan as a legacy for his grandchildren.

The donor of the billboard is putting up $500 and the Foundation is matching that pledge for information leading to the arrest and conviction of the vandal(s). The donor expressed shock and revulsion that a vandal or vandals would deface his message to "enjoy life now."
How awful our society is when a sign that promotes living for the moment instead of the afterlife is seen as a threat by some (presumably) religious person. But at least the billboard company is stepping up to replace it and FFRF is issuing a reward to anyone who can turn in the vandal(s).
Just keep in mind: the response in these cases should never be to retaliate in kind. We're better than that. We're the logical and sensible ones.
But we can always keep putting up more billboards…