Andrea Crain devotes a lot of her free time to achieving full LGBTQ equality with Join The Impact Chicago. When she heard that the Americans for Truth About Homosexuality was holding a three-day "Truth Academy" in order to train the next generation of anti-gay-rights activists, she wanted to be a voice of dissent. So she joined a group protesting the event on Thursday night (the first day of the Academy) and wrote up her thoughts for this site. Her full account is below, as are several of her pictures.
Additional photos (watermarked) are reprinted with permission of Amy Harkness. You can see Amy's full gallery of AFTAH protest pictures here.
Beginning tomorrow, I'll be posting what took place inside the Academy, from the perspective of a couple of the attendees who — unbeknownst to AFTAH — were there on my behalf.
…
"…Then there wouldn't be any more morality," said an authoritative male voice from behind me. It was Thursday evening in Arlington Heights, IL, temporary home of the Americans For Truth About Homosexuality academy, and I was prepared for such talk — but not quite yet, and not in the Panera Bread. I snuck a glance behind me. A couple of men in formal clothes, easily recognizable by the AFTAH conference badges around their necks, were finishing up their dinners.
I felt like a secret agent — they had no idea that an LGBTQ rights activist (and atheist) was listening in. As I ordered my food, I noticed many more of the AFTAH people talking about who was going to go first with the cameras to film the counter-protesters. About eight of them were standing around, blocking the exit. Food and drinks in hand, my partner and I decided we'd better make our escape if we were going to greet them when they got to the school. "Excuse us, pardon us," I said as we walked through the towering clump of guys to the door. Once we were outside, I continued privately, "We don't want to be late to protest you…"
As regular readers of this blog probably know, AFTAH is run by Peter LaBarbera, an anti-gay activist who's worked for the Concerned Women for America, the Family Research Council, and most recently the Illinois Family Institute, before leaving to form AFTAH, and who is known by some gay activists as "Porno Pete" for his unusually detailed firsthand research into gay male S&M events and extremely hardcore, fringe pornography. He organized the not-so-aptly named "Truth Academy" to teach people as young as 14 how to follow in his footsteps.
We got to the Christian Liberty Academy, the school playing host to the event, right around 7:30 p.m., and there were already a lot of demonstrators:
The protest was co-sponsored by the Gay Liberation Network (GLN), DuPage NOW, Woodstock/McHenry County PFLAG, La Voz de los de Abajo, and the group I belong to, Join the Impact Chicago (JTIC). There were NOW folks and others on the corner, displaying signs to those driving by on Euclid Ave. There were GLN, PFLAG and Standing On The Side of Love folks with huge banners, lots of people with homemade signs like my own, and Andy Thayer of the GLN with his portable sound system leading a picket line up and down the sidewalk, chanting against homophobia and for equal rights.
About ten police officers were monitoring the situation, and some school staff hung out, watching us, from the steps leading to the entrance.
Within a few minutes, the picket line became a knot around a few people at the end of the sidewalk. Peter LaBarbera and a couple of other AFTAH people, including a person with a big television-style camera, were on the sidewalk among us. They were allowing themselves to be surrounded; there were plenty of police keeping a clear path to the entrance when other AFTAH people wanted to enter and leave.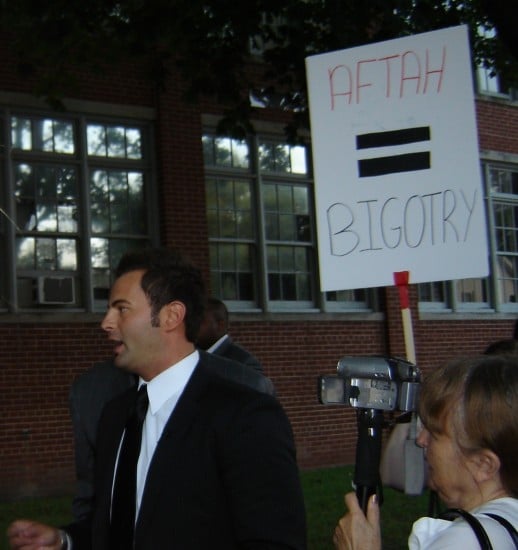 I rushed over to where they were. Peter seemed delighted to have us there. I felt he just wanted to catch some excellent footage for use in portraying our movement for justice as the real haters. We were, of course, angry at him not because he privately thinks we're sinners, but because of his attempts to enforce his religious opinions on everyone else and to fill the minds of young people with hateful lies about us. We had noticed the school's sign had been set up with a special message for us: "Truth is not hate except for those who hate truth." Rubber and glue, AFTAH, rubber and glue.
He and the men with him talked to members of our crowd for a few minutes, filming the whole time. I was only a few feet away but I could not hear a word any of them said, because people from our side had bucket drums, Andy Thayer led a round of chanting "Peter LaBigot," and there was a lot of general yelling. They filmed an extensive conversation between a young man and one of the AFTAH folks. I just held up my sign for the camera to see and hoped that young man was good at debating. When I asked someone else who got close enough to talk to the AFTAH people what they'd said, he just shook his head and said it was like talking to a wall.
Once Peter's entourage got inside, we went back to picketing and holding up signs. I went over to talk to the Standing On The Side of Love group. This is a social justice campaign that was initiated by the Unitarian Universalists. I have seen their distinctive yellow signs at a bunch of rallies and marches, and I was interested to talk to them. These folks were from the Countryside Church Unitarian Universalist in Palatine.
Their minister, Hilary Krivchenia, said the members of her church who'd come out this evening "believed that the United States can do better than fomenting hatred against lesbian, gay, bisexual and transgendered persons." I asked her what she'd say if she could talk one-on-one with the kids attending the Academy. She said she'd tell them to get to know the people behind the slogans, rather than falling for the very narrow interpretations of Christian teachings on offer at the Academy.
She added: "If Jesus were here, he'd be standing with us."
One of the members, Jane Matthews, told me that they were part of a program at their church called Living the Welcoming Congregation and that they "make explicit efforts to welcome and include LGBT people in the life of the congregation." What would she say to the "Truth Academy" attendees? She hoped they would reach out and get to know some LGBT youth so they could learn to appreciate each other. "I don't think lectures work, and I sure hope this doesn't work," she said, gesturing to the school.
Jane's husband, Jim Booth, said he'd come to the protest because he'd always believed in equal rights. He said he was 79-years-old and he'd known and liked gay people for a long time, even forty or fifty years ago. "They have such a difficulty," he said, "with all the bigotry they're faced with, so I just have always wanted to support them." When I asked him what he'd say to the kids, he said he'd tell them to study all sides and come to their own conclusion. "I would not insist that they see my own way of thinking or believing, I don't think that's right, but I think the important thing is that they do their own research." Jim is a member of the Unitarian congregation and also an atheist. I asked him if he felt accepted at the church as an atheist, and he said he'd helped start up an agnosticism, humanism and atheism discussion group there about three years ago and it was still quite active. Laughing, he said, "Atheism is alive and well within Unitarianism."
After I left the folks from the Unitarian Universalists Church, my partner, wearing our rainbow flag like a superhero cape, went to stand with the NOW and PFLAG folks. I wandered around taking pictures of some of the great signs people had made.
Then we noticed that the window on an upper floor had opened, and a couple of AFTAH people were filming the crowd from above.
I held up my sign to face the camera. A young lesbian next to me started jumping up and down to get their attention. She had heard one of the AFTAH people told one of our people that we must have been molested to cause our homosexual behaviors. "I've never been molested," the young woman yelled up at the cameraman. "No one abused me! No one's ever touched me without my consent! I'm gay because I like it and because I can't change!"
Some of the other JTIC members who were there came up to me and told me that we were offered a chance to speak, and that they thought I should do it. I agreed without thinking and then realized I didn't have anything prepared. I frantically tried to figure out what I should say.
Pretty soon we gathered into a circle to start our rally. Hilary Krivchenia started us off with a prayer that as we speak, we would increase the light and love in the world and transcend barriers of hatred, fear, and misunderstanding in order to create bonds of love.
Then a number of activists spoke. A former teacher from Palatine talked about how bigotry at school can wear down a kid's self esteem and dignity. A younger activist talked about not being afraid of who you are, referencing the school's sign about the "real meaning" of truth. A PFLAG mom talked about how disgusted she was at the idea of teaching kids to hate. "Teaching that my son is less-than or a sinner is child abuse!… God loves my son, and I love my son exactly as God made him."
When my turn came, hoping the sound system was loud enough that people inside could hear us, I decided to address the kids directly. I said I was willing to bet a lot of kids who would sign up for such an academy did so because they were struggling with being gay themselves. I told them there was a whole world outside their sect, that there were Christians and agnostics and atheists like myself out here who are good people and who wanted to support them. I asked them to do their own research, follow their own hearts, and listen to their own feelings.
What I said will probably be used in AFTAH propaganda as evidence that we came to recruit, but all I wanted was to encourage and strengthen any kid in there who was like Amanda.
Amanda is a young, Christian, bisexual woman who had been expelled from the very school that was hosting the Academy. What she said was very moving. "This school terrified me. I think every time I went to this school I had an anxiety attack. It was so terrifying to be myself," she began. Please watch the video of Amanda's full speech.
There was also some political talk. A young man reminded us about the boycott of Target. Some meetings were advertised and Eric Broad, who lives in the same town as Peter LaBarbera and helped organize the protest, wanted to deliver the message that their community does not tolerate bigotry.
Andy Thayer of GLN reminded us that a large movement with activists out in the street has always been needed for any social change and invited everyone to get involved in creating the sort of climate where lawmakers and bigots and the Supreme Court justices, who will eventually rule on whether to uphold the amazing Prop 8 victory that had come out the previous day, know that the people will not stand for anything less than full equality.
At its peak, our side had over a hundred people standing on the side of love, freedom from fear, and justice under the law. I hope next time hate comes to your town, you will be standing there as well.
…
Incidentally, AFTAH wrote about the protest here.