The Freedom From Religion Foundation has a new ad going up on 75 Chicago buses this month: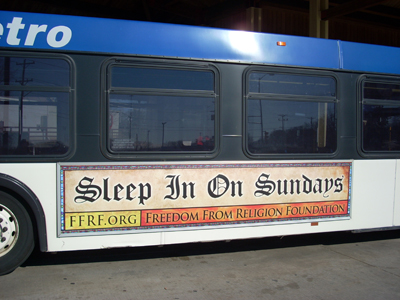 "Obviously, there are many reasons to reject religion, most of them intellectual," said Dan Barker, FFRF co-president. "But face it — one of the immediate benefits of quitting church, besides getting a 10 percent raise because you can stop tithing, is getting to sleep in on Sundays! What the world really needs is a good night's sleep."
It's a funny line but it does raise a point about these atheist billboards and bus ads.
Some of them are there to simply let other atheists know we exist. This is the kind of billboard the Coalitions of Reason have been putting up over the past year — the ones that say things like "Are You Good Without God? Millions Are" — These are not meant to be offensive… even though the mere thought of atheism is enough to piss off some people.
Some of them — like FFRF's — are more "in your face," making statements about god/religion. They don't really care if they offend anyone. They want to show that good, smart people in history have been atheists. They are proud to be atheists and they want to ruffle feathers ("Yes Virginia… There Is No God") in the process.
This particular ad falls in the latter category. Is it rude? Not at all. Christians have ads encouraging people to go to church all the time. This is encouraging people not to. It's as simple as that.
The Chicago Tribune is citing reactions from a few local religious leaders:
The worst comes from Rev. Michael Pfleger, pastor of St. Sabina Roman Catholic Church:
In a day when values and respect of life seem to be at an all time low it seems sad that in the search for funds [Chicago Transit Authority] would approve such ads for our citizens and in particular our children who ride these buses to and from school to be reading each day.

While we live in a day when it seems our first offense is to attack, shoot, or even snatch another human life from existence, I would think that church might be one of the few institutions left where we can teach about the value and reverence for human life and seek to encourage us all to attend some expression of faith each week.
So because the world is already shitty, atheists should shut the hell up.
Right…
This from the guy representing the Catholic Church.
At least the commenters on the Tribune site are ripping him apart for those ridiculous remarks…
Religion reporter Manya Brachear has an article in today's paper that includes more positive reactions from our community:
In fact, nonbelievers have felt alienated for decades, said Hemant Mehta, coordinator of the Chicago Coalition of Reason, the group that sponsored a billboard last fall that asked passers-by: "Are you good without God? Millions are."

"Our goal was to say 'Hey, atheists out there already, we're here. If you agree with us, come check us out,'" Mehta said. "Meeting people who are like-minded can be really tough for atheists."
My favorite line comes from my friend Matt:
Matt Lowry, 37, a science teacher in Vernon Hills and the organizer of the North Suburban Chicago Freethinkers, said he never wore his beliefs, or lack thereof, on his sleeve. But the more it came up in conversation, the more he realized how the collective silence has caused atheists and agnostics to be misunderstood.

"Just because you're a nonbeliever does not mean you're kicking little old ladies down the stairs or eating babies," Lowry said. "There's this common misperception. For too long, the nonbelieving community in this country has basically allowed religious fundamentalists to define them that way."
*Applause* Well said, Matt 🙂
Not every reaction in the piece was positive. One Chicago religious representative found the "Sleep in on Sundays" slogan offensive:
It's hard to know if the confrontational way these groups present their message is healthy for the body politic, said the Rev. Paul Rutgers, co-executive director of the Council of Religious Leaders of Metropolitan Chicago.

"Quite obviously a significant portion of the religious community is going to be upset," Rutgers said. "We'll probably do several things, including be angry and deeply offended. Perhaps also some will give more serious thought to their own faith commitments. The fact of the matter is we're living in a culture that in many ways beyond this challenges our faith commitments. So in that regard it's a reminder that in many respects this is not a friendly environment."
All FFRF is saying is that atheists don't go to church on Sunday and others should follow their lead.
What is so unfriendly about that, exactly?
Nothing, of course.
Pastors like Rutgers and Pfleger are just offended that there are people out there who don't share their beliefs about god and are — *gasp* — going public with them.
The more they complain about these obviously inoffensive ads, the more incentive we have to keep them coming.
***Update***: The story is on the front page of the Tribune!
I'm also in block-quotes. *Happy dance*
***Update 2***: There was a problem of sorts in the print edition. Read about that here.