The last time dating website OKCupid released data about its users, we discovered that saying you're an atheist can help you get a date!
Recently, they released a few more charts that are revealing both for what they tell us and don't tell us.
For example, a lot of people put their astrological sign on their dating profile. You would assume that some of them take it seriously enough to actively seek out people with whom they're "compatible."
So what happens when you take a random sampling of 500,000 users and check out the "match percentages" between users with different signs?
Just for some background:
A match percentage between two people is a condensed, yet statistically valid, expression of how well they might get along. 75% is very high, 45% is very low, and 60.2% is the site-wide average.
So people whose stars are "correctly" aligned should see a higher-than-average match percentage, right?
Let's find out: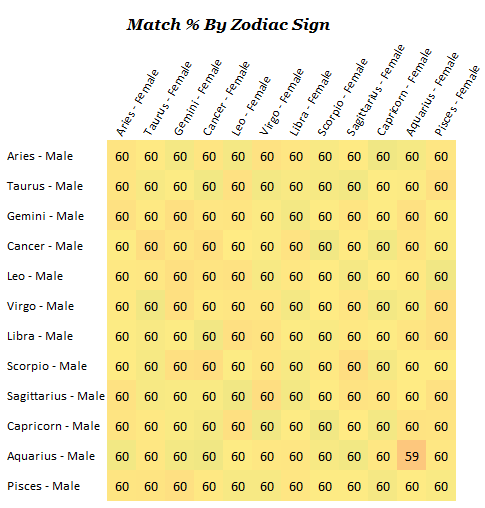 I know what you're thinking: two Aquarians should never date.
But let's be clear: there's no statistical difference when it comes to compatibility regardless of your zodiac sign!
If people ask you for your sign, tell them you're not interested in breeding and move on. You'll be doing us all a favor.
Another interesting chart is the one below, regarding how adamantly you take your belief system. Are you very serious about whatever you believe? Or are you laughing about it because you don't take it that seriously at all?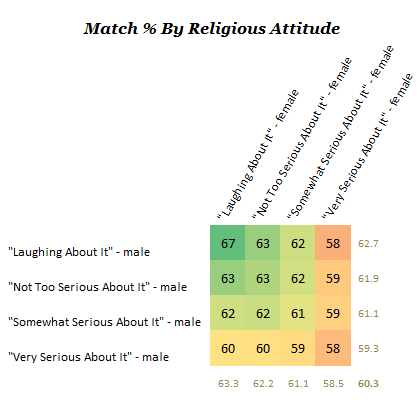 The summary explains it well:
As it turns out, people who hold their beliefs lightly are much better liked, even by people who are themselves serious. Weird huh? While it's true that the most serious women believers slightly prefer their men to not be "laughing about it", every other slice of this data indicates that the less serious (or more flexible?) you are about your religious beliefs, the better you get along.
This applies to atheism, too. The more serious you are about it, the less people are interested in you. You're just not as fun to be around as someone who simply brushes religion aside like it's a whim of the masses.
I was also amused by the stat that Jewish guys get along with people from all religious faiths — in fact, they have higher compatibility with Muslim woman than Muslim men! (There's irony for you.)
Have these trends played out in your personal life at all?
Would you prefer dating someone who took their belief system super-seriously?
(via OKTrends)