On Friday, about 3,000 Muslims showed up in Washington to pray in front of the U.S. Capitol: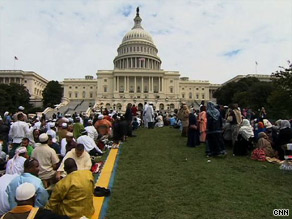 "America is not perfect," Abdul Malik, an organizer of the event called Islam on Capitol Hill, told the crowd.

"But I will say something it took me my whole adult life to come to: America is not perfect, but I want to tell the truth: It is one of the best places in the world to live."

…

There were also anti-Muslim protesters near the event.

Earlier, Malik said, "This is not a protest, it is a day of prayer, of devotion, hoping that we can work … for the betterment of the world community."

He added, "We can come together and work together for the common good."
Sounds harmless enough.
And since tens of thousands of Christians descended upon the city a couple weeks ago for the FOXNews-sponsored 9/12 event, you imagine they'd be cool with other groups showing up to display their own faith.
I'm just kidding. They're going batshit insane over this:
Across the street from the service, Christian protesters gathered with banners, crosses and anti-Islamic messages. One group, which stood next to a 10-foot-tall wooden cross and two giant wooden tablets depicting the Ten Commandments, was led by the Rev. Flip Benham of Concord, N.C.

"I would suggest you convert to Christ!" Benham shouted over a megaphone. Islam "forces its dogma down your throat." A few Christian protesters gathered at the rear of the Muslim crowd, holding Bibles and praying.

…

"It is important for Christians to understand that Friday's Muslim prayer initiative is part of a well-defined strategy to Islamize American society and replace the Bible with the Koran, the cross with the Islamic crescent and the church bells with the Athan [the Muslim call to prayer]," the Rev. Canon Julian Dobbs, leader of the Convocation of Anglicans in North America's Church and Islam Project, said in a written statement.

"The time has come for the American public to call Islam to account," he said.
Right… Islam "forces its dogma down your throat." Christians never do that…
It's not all Christians who feel this way, of course, but more than enough to make anyone uncomfortable. Where's the backlash from Christians standing up for the Muslims' right to pray?
[Crickets chirp]
Hmph.
At least one member of the Christian Left, Brian McLaren, is doing something about it. Not in reaction to the prayer protests, but well before it, he decided to fast for Ramadan along with his Muslim friends:
This year, I, along with a few Christian friends (and perhaps others currently unknown to us will want to join in) will be joining Muslim friends in the fast which begins August 21. We are not doing so in order to become Muslims: we are deeply committed Christians. But as Christians, we want to come close to our Muslim neighbors and to share this important part of life with them. Just as Jesus, a devout Jew, overcame religious prejudice and learned from a Syrophonecian woman and was inspired by her faith two thousand years ago (Matthew 15:21 ff, Mark 7:24 ff), we seek to learn from our Muslim sisters and brothers today.
Nice gesture, even though I don't see what fasting alone will accomplish. I think Muslims would rather appreciate Christians taking action against what more conservative Christians are doing. Get younger Christians to join together in defense of pluralism and against the hateful practices of the Religious Right. Be subversive from the inside.
For what it's worth, I've seen Christians reacting to McLaren's call to fast, but I haven't read about any Muslims saying it has made any difference to them.
(Thanks to Danny for the link!)