Dating website OKCupid ran an analysis of emails sent by people making first-contact with someone else. They wanted to know which words/phrases were more or less likely to generate a response from the other person. (They compared all results to the overall average response rate of 32%.)
We analyzed over 500,000 first contacts on our dating site, OkCupid. Our program looked at keywords and phrases, how they affected reply rates, and what trends were statistically significant. The result: a set of rules for what you should and shouldn't say when introducing yourself online.
There are some obvious results. Don't spell like a teenage moron. Don't use the word "sexy" or "beautiful" in your first email (I assume it makes the recipient uncomfortable). It helps to point out a shared, possibly-unique interest (e.g. Vegetarianism, tattoos, grad school, etc).
But this is the bit that stood out:
Mentioning your religion helps you, but, paradoxically, it helps you most if you have no religion. We know that's going to piss a lot of people off, and we're more or less tongue-in-cheek with this advice, but it's what the numbers say.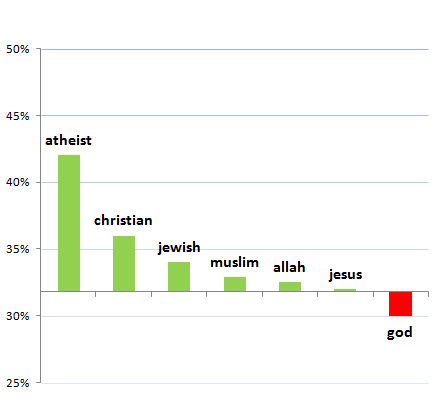 In other words, if you bring up your atheism, you have a better-than-average chance of getting a reply! Mention god and your response rate goes down.
There are unanswered questions: We don't know how "atheist" and "god" are used in the emails (perhaps they say, "I hate atheists" or "I hate god"). Perhaps atheists are more likely to be drawn to OKCupid than theists. (It's not like you'll meet a ton of atheists on eHarmony.)
But it's encouraging to know that, at least on one dating site, being an atheist may not be such a liability.
(via Saint Gasoline)